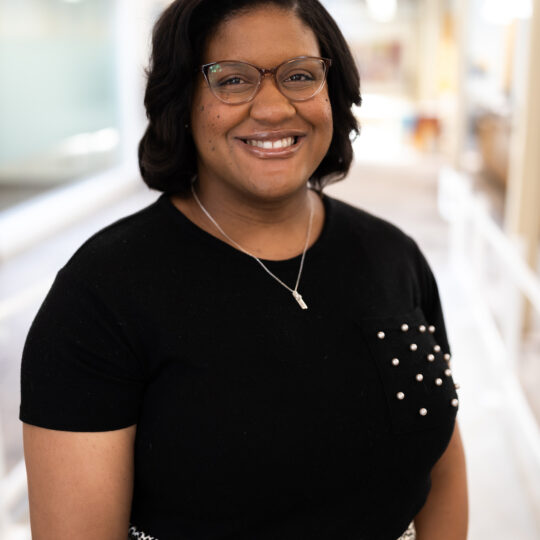 ---
Assistant Professor of Interreligious Chaplaincy and Program Director for Interreligious Chaplaincy
Rev. Dr. Jessica Chapman Lape is assistant professor and program director for interreligious chaplaincy. Jessica received her PhD in Practical Theology from Claremont School of Theology where she earned the Presidential Award for Academic Excellence and the Jack Coogan Award for the Creative Use of the Arts in the Life of the CST Community.
Jessica's research inhabits the intersection of spiritual care, healthcare, and reproductive justice. Her dissertation, missTreated: A Womanist Clinical Pastoral Theology on the Mistreatment of African American Women in U.S. Healthcare, explores Black women's perception of cultural violence in U.S. healthcare systems and the subsequent role of spiritual care in interrupting such violence. Jessica's current research is working to expand paradigms of clinical spiritual care to include contextualized spiritual care practices such as Black indigenous birthwork.
As a trained community birth doula, Jessica works to integrate traditional African American birthwork and midwifery practices into her clinical chaplaincy. She has been a chaplain for faith-based nonprofit organizations, and a healthcare chaplain specializing in areas such as palliative care, women's health, community health, and perinatal care.
Jessica is an ordained minister in the United Church of Christ, a staff chaplain at Regions Hospital in St. Paul, MN, and a proud member of Alpha Kappa Alpha Sorority, Incorporated. She lives and plays with her spouse, J.D., their little one, Johnathan, and their rambunctious yet curmudgeonly senior dog, Andie.
Education
PhD, Claremont School of Theology—Clinical Spiritual Care, 2021
MDiv, Wake Forest University School of Divinity—Faith and Health of the Public, 2014
BS, Johnson C. Smith University—Community Health, 2011
Publications
"A Meditation." In Crocus Blooms in Wilderness Places: Sermons, Prayers, and Reflections During COVID-19, edited by Jill Y. Crainshaw and Lindsey Clifton, Kindle Location 910-926, Winston-Salem, NC: Liberty Partners Press, 2020.
"A Pandemic of Mistreatment: Theories, Practices, and Convergences in Womanist Clinical Pastoral Theology and Black Maternal Healthcare During Covid-
19." Journal of Pastoral Theology 31, no. 2-3 (2021): 128-144.
Review of I Bring the Voices of My People: A Womanist Vision for Racial Reconciliation by Chanequa Walker-Barnes, 2019. Journal of Pastoral Theology, forthcoming.
"The Womanist Chaplain." In Injustice and the Care of Souls: Taking Oppression Seriously in Pastoral Care, Second Edition, edited by Sheryl A. Kujawa-Holbrook and Karen B. Montagno. Minneapolis, MN: Fortress Press, forthcoming 2023.
Cutts, Teresa, Langdon, Sarah, Meza, Francis Rivers, et. al. "Community Health Asset Mapping Partnership Engages Hispanic/Latino Health Seekers and Providers." North Carolina
Medical Journal 77, no. 3 (2016), 160-167.
Mead, Antonia and Chapman, Jessica. "There is No "I" in Pregnancy: Peers Educating Peers about Preconception Health." The Physical Educator 45, no. 1 (2013), 31-34.
Research Interests
Black feminist epistemology

Clinical pastoral theology

Intercultural spiritual care and counseling

Reproductive justice theory

Womanist pastoral theology