Worried About Money?
We're Here To Help.
Here at United, we believe that seminary education should be affordable. In addition to financial aid options, multiple generous scholarships are available for new and current students. In fact, 95 percent of new master's students receive tuition aid or scholarships.
If you would like more information about financial aid or scholarships at United, please contact our Student Enrollment team and we'll be in touch with you.
How Much Does United Theological Seminary Cost?
Approximate Total Tuition and Fees for 2023–2024
Total Estimated Program Tuition and Fees:
Master of Arts = $26,300
Master of Arts in Leadership = $35,000
Master of Divinity = $52,400
Doctor of Ministry = $26,350
Tuition is $725 per credit hour. Annually, tuition is $8,700 for a half-time master's course load of 12 credits per year or $17,400 for a full-time master's course load of 24 credits per year. Tuition is $8,700 for a full-time DMin course load of 12 credits per year.
To access a complete list of tuition and fee amounts, please refer to the 2023–2024 Academic Catalog and look on page 96. 
Want to audit a course instead?
The fee for auditing is $276.
Apply For Financial Aid
United's financial aid office can help you secure the following four types of funding:
Federal Loans: Applications are accepted year-round.
Need-Based Aid: This is based on your Estimated Family Contribution from the FAFSA.
Merit-Based Aid (Dayton Scholarship): This is based on student information, a personal essay, and documentary evidence. The application deadline is May 1.
Scholarships: See the list below for more application details.
To apply for federal loans, need-based aid, and most scholarships, you must first complete a FAFSA Form.
United Theological Seminary FAFSA CODE: G02386

Have Questions?
Please don't hesitate to contact us today to set up a meeting with a friendly financial aid officer.
Merit Scholarship (Dayton Scholarship)
Application materials are due on or before March 15
A select number of master's degree students are chosen to be Dayton Scholars. To be eligible, a student should demonstrate excellence in academic and intellectual achievement, personal characteristics and qualities, leadership capacity in both interpersonal and group contexts, service orientation, and religious or spiritual commitment. Applicants are considered from three perspectives: student information, a personal essay, and documentary evidence. Merit awards can cover a limited number of consecutive years, provided the student maintains financial aid eligibility and remains in good academic standing.
Arts Scholarship
Mary Bigelow McMillan Scholarship
Schilling Scholarship
Carpenter Scholarship
IFYC Scholarship
Mall Family Endowed Scholarship
An applicant for the Mall Family Scholarship must exhibit outstanding academic achievement and demonstrate financial need. Preference is given to students who exemplify Mall family values (philanthropy, education, hard work, family, and having fun) and who can clearly articulate their call to ministry. The scholarship provides $500–$1,000 toward tuition per academic year. A recipient may reapply in subsequent years, but there is no guarantee of receiving the award more than once.
St. Lawrence Foundation Scholarship
UCC Local Ministries Scholarship
Schilling Scholarship
Merit Scholarship (Dayton Scholarship)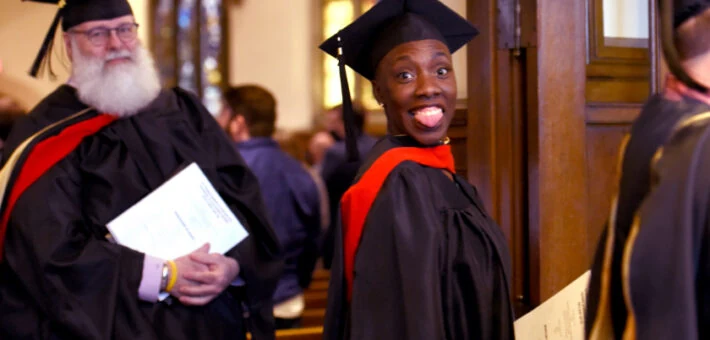 You've Found Your Calling—
Now Take the Next Step
Wherever you're at in your vocational journey, we're here to help guide you.