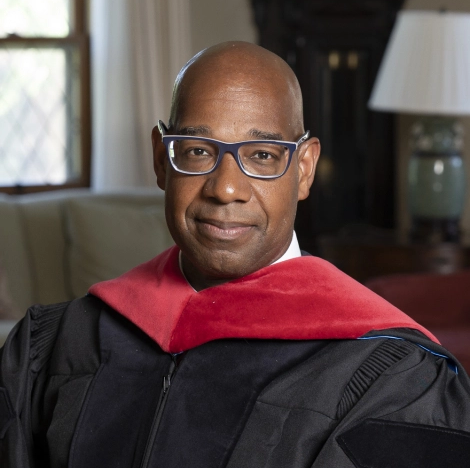 ---
ADJUNCT PROFESSOR
Rev. Dr. DeWayne L. Davis, Lead Minister of Plymouth Congregational Church in Minneapolis, is a cleric ordained by the Universal Fellowship of Metropolitan Community Churches, with expertise in social justice analysis, advocacy, and organizing. Rev. Dr. Davis brings a gift for preaching, an appetite for partnerships, a commitment to liberal theology and social justice, as well as experience in public policy and political organizing. He most recently served as Senior Pastor of All God's Children Metropolitan Community Church in Minneapolis. Rev. Dr. Davis previously served as the Domestic Policy Advisor in The Episcopal Church's Office of Government Relations where he represented before the U.S. Congress and the Executive Office of the President the domestic social policies established by the Episcopal Church's General Convention and Executive Council. In the capacity, he organized the Episcopal Church's advocacy for marriage equality in Washington, DC at the U.S. Supreme Court.
Prior to his transition to professional ministry, Rev. Dr. Davis served as legislative aid for U.S. Representatives Peter Visclosky (IN) and Chet Edwards (TX) and as Appropriations Committee aid to Democratic Whip Steny Hoyer (MD), advising and managing such public policy issues as LGBTQ rights, transportation, health care, financial services, housing, judiciary, and law enforcement. Following his service in government, he served as Director of Federal and Industry Relations for Sallie Mae, Inc., where he lobbied and briefed Members of Congress and their staff on regulation of student loan financing and federal government collections as it affected Sallie Mae and managed and distributed campaign contributions through Sallie Mae PAC.
Rev. Dr. Davis has served on many boards, serving currently on the Community Advisory Board for Hennepin Health Care. He previously served on the Board of Directors of OutFront MN and remains active in the effort to ban conversion therapy and address anti-LGBTQ violence. He served on the Advisory Committee of the Kaleo Center at United Theological Seminary of the Twin Cities and the Board of Directors of Clare Housing.
The fifteenth child of Elder William Birkett Davis and Missionary Delcia Davis born and raised in Mississippi, Rev. Dr. Davis holds a B.A. in Economics and Philosophy from Howard University and an M.A. in Government and Politics from the University of Maryland at College Park. He received his Master of Divinity degree with honors from the Wesley Theological Seminary in Washington, D.C. in 2012 and his Doctor of Ministry degree in Biblical Preaching at Luther Seminary in St. Paul, MN in 2020.
Rev. Dr. Davis currently lives in Minneapolis with his husband, Kareem, and their dog, Eubie.
Education
D.Min. Biblical Preaching, Luther Seminary
M.Div. Preaching/Emerging Ministries, Wesley Theological Seminary
M.A. Government and Politics, University of Maryland at College Park
B.A. Economics and Philosophy, Howard University