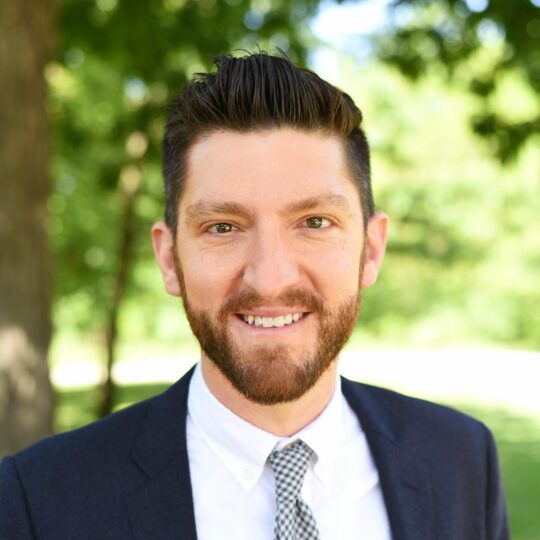 ---
Assistant Professor of Theological Ethics and Formation 
Andrew Packman is a theological ethicist. His scholarship revives ancient questions about affectivity in moral and religious life by posing them anew in contemporary contexts of social oppression. His first book project, tentatively entitled The Atmospherics of Race and Intransigent Evil: A Theological Diagnosis of Racism's Affective Life, draws constructively from critical race theory, social psychology, and the works of Friedrich Schleiermacher to propose a novel theological account of anti-Black racism's recalcitrance in American life. His current research engages topics in moral psychology, philosophy of action, critical race theory, affect theory, and social sin.
Before coming to United as a Louisville Institute Postdoctoral Fellow, he taught at the University of Chicago and Loyola University Chicago. Packman is also an ordained minister in the Christian Church (Disciples of Christ). In 2012, he joined with two colleagues to plant a dinner church in Chicago's Logan Square neighborhood called Root and Branch. He also co-founded the Constructive Theologies Project, a group of Disciples of Christ thought leaders who contribute theological reflection to the church's work of racial justice and reconciliation. He lives in Minneapolis with his wife, Sarah, and their two sons, Benjamin and Owen.
Education
PhD, University of Chicago, 2021

MDiv, University of Chicago, 2012

BA, Loyola University Chicago, 2007
Scholarship and Writing
"The Christmas Eve Dialogue," co-authored with Andrew Dole, in The Oxford Handbook of Friedrich Schleiermacher, eds. Andrew Dole, Shelli Poe, and Kevin Vander Schel (New York: Oxford University Press, forthcoming)

"Structural Sin and the Affective Structure of Agency: Systemic Racism, Implicit Bias, and Schleiermacher's 'Collective Power of the Flesh'," Presentation at the Joint Liberation Theology Unit and Schleiermacher Unit, AAR Annual Meeting, San Antonio, November 2021.

"They Became Futile in their Thinking: Implicit Racial Bias, Social Sin, and the Death of the Soul," Presentation at the Disciples Divinity House at the University of Chicago, November 2019.

Entry on "Race and Religion" in A Dictionary of Philosophy of Religion, edited by Charles Taliaferro & Elsa J. Marty, Second Edition (New York: Bloomsbury, 2018).

"Enhancing Racialized Social Life: The Implicit Spiritual Dimension of Critical Race Theory," Religion & Culture Forum, a digital publication of the Martin Marty Center at the University of Chicago (December 2017)

"Schleiermacher's Change of Heart and the Recovery of Feeling in Theology," Presentation at the Joint Schleiermacher Unit and Christian Systematic Theology Unit, AAR Annual Meeting, Boston, November 2017.

"Interfaith Repertoire: A Bosnian Choir Sings Reconciliation," The Christian Century 129.12 (2012): 30-32.
Research Interests
Critical Race Theory

Affect Theory

Ethics of Implicit Bias

Friedrich Schleiermacher

Social and Structural Sin

Religious Aesthetics and Social Change

Theologies of Culture

Moral Motivation and Moral Failure